Upcoming Events
Venue Map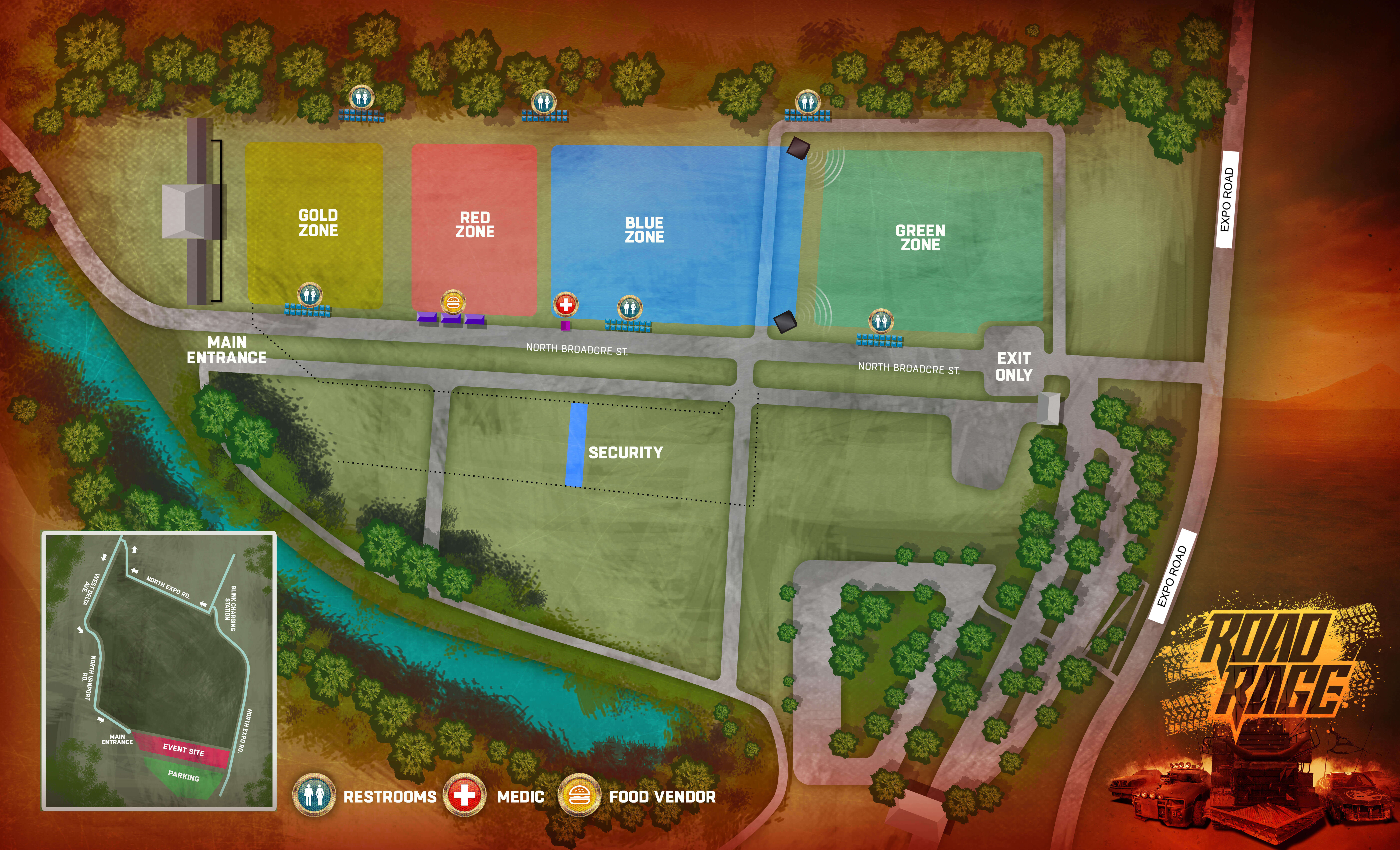 FAQ
All guests are subject to health screenings and temperature checks upon arrival. Attendee health & safety is our highest priority. We are following all state guidelines for drive-in entertainment.
You can review the state guidelines here: https://sharedsystems.dhsoha.state.or.us/DHSForms/Served/le2351h.pdf.
Please note, this guidance is subject to change at any time without notice.
Ticket prices are per day for the date you select.
Spaces are drive-in movie format and are 16′ W x 18′ D.
No, you may not buy tickets at the gate, you must purchase tickets before the event date online, in advance. Tickets WILL sell out. We encourage you to purchase early.
Parking is first come first serve based on your ticket zone color. If you are arriving with other vehicles, you must arrive with those vehicles at the same time. Parking will be guided from front to back in your zone color.
Tickets are per vehicle. You may bring up to (6) six passengers (including the driver) per vehicle. Oregon COVID-19 Guidelines do not allow any more than six persons per vehicle. No additional tickets are required for entry.
Yes, there will be food and drinks available for purchase on-site. All items will be available to order on the day of the event via mobile ordering. Walk-up orders are not permitted and card/digital payments are the only accepted form of payment. Your order will be delivered to your space number. We encourage you to order right after arriving to ensure there are no delays. Water stations will not be available–please bring water!
Yes, you may bring sealed snacks and foods inside. Please bring water!
Due to Oregon COVID regulation as of 3/1/2021, no alcohol is not permitted on site. Guests with open alcoholic containers in vehicles may be subject to DUI by Portland Police. 
You must be 18+ to enter. A government-issued Photo ID required. International IDs must have an accompanying passport to be considered valid.
Upon arrival your car will be thoroughly checked and tickets will be scanned (please have them readily accessible and be sure to have a face covering on). You will proceed to your color zone and will park based on arrival time from front to back of each zone. Our parking staff will assist.
Please bring your favorite outfit and a variety of clothing. Pay close attention to the weather forecast. We highly encourage you to bring good shoes. The venue space is grass with mixed gravel. Depending on the weather, the space could get muddy and puddles could form.
Seating outside of your vehicle is not encouraged but you may bring lawn chairs as long as you remain in the perimeter of your space. Anytime you are outside of your vehicle, face coverings must be worn.
We have a strict no refund policy. However, if we cancel or postpone the event, tickets will be transferred to the rescheduled date. We will contact ticket holders individually.
Yes. Appropriate COVID-19 face coverings must be worn anytime you are outside of your vehicle, have windows/hatches down or are sitting in truck beds and communicating with event staff. Have COVID-19 concerns on-site or know of a group that is not abiding by these guidelines? Please text our customer service number at (971) 266-1781
There is no standing room available. All attendees must arrive in vehicles. 
We're working with our friends at PK SOUND to provide you with the best audio experience in the Northwest. Sound will be transmitted via PA and FM transmitter. 
There are no additional parking fee/ticket requirements other than the base vehicle admission for you and your crew.
Get here early for the best spot in your zone! Parking is first-come-first-served in each zone. Gates open two hours prior to the scheduled showtime. For the safety of all our guests, we ask you to arrive prior to the show starting. No arrivals will be permitted after 7 pm.
Know where your closest exit is, drive slow, and ask parking staff to help you exit the venue. Please TEXT our customer service number with questions or help requests. (971) 266-1781.
No, sorry, there is no re-entry allowed.
Do not attend! Give your tickets to a friend and join us for the next event! If you start feeling ill during the show, please TEXT our customer service number and a health & safety team member will assist you. (971) 266-1781. Do not be afraid to ask for help once you're onsite–we're here for you!
Service animals are permitted. This does not include emotional support, therapy, or companion animals. Legitimate service animals will only be allowed inside of the venue. Pets are not allowed. Attendees bringing an animal inside assume full responsibility and liability for any damage or injury caused by the animal.
You are permitted to bring prescription drugs into the event if you have a valid prescription with your name clearly listed on the prescription. You will only be allowed to carry the dosage of medication required for the duration of the event.
Yes, there are restrooms located all around the event grounds.
Please contact hello@roadragedrivein.com and we will take care of you!
Sure, but this means you can only have two guests in your space.
We encourage you to plan ahead and arrive early, gates will close once the performances start and you may only be allowed to enter during set changes up until 7 pm. No arrivals after 7 pm are permitted.
Parking is first-come-first-serve front to the back of your assigned color zone. Please park in between the two cones at each spot with your front or back bumper in line with the cones. There will be a spot number on the driver's side cone. That is YOUR spot number. It's how we'll bring food & beverage to your vehicle and how we can find spaces in case of an emergency.
Lifted trucks, boats, RV's, trailers, busses, tricycles, limos, sprinter vans, or cars that seat more than 6 people.
No games that require guests to be outside of the perimeter of the vehicle are allowed. BBQs and other cooking devices are strictly prohibited.
Ensure you have your ticket printed or readily available on your mobile device. We also encourage you to bring water. While we will be serving food and beverage. We will not have water refill stations.
Guests are encouraged to stay within their spot's 16'W x 18′ D perimeter. Anytime you are outside of your vehicle or have hatches/windows open, you must wear a mask. You may stand/sit immediately behind (if backed in) or in front of your vehicle. You may not sit/dance on the sides of your vehicle.
Please note: these rules are subject to change at any time if Oregon State COVID-19 guidelines change prior to the show. In which case, the new/added rules must be followed. Refunds will not be provided in the case of COVID-19 guideline changes. 
Please review our list of allowed and prohibited items below.
Please text our customer support line at (971) 266-1781 if you have any questions or health & safety concerns. 
Bring an umbrella and good shoes–canopies are not allowed. The event is taking place on grass with mixed gravel. The space could get muddy and/or puddles can form near parking spaces.
We have a strict no refund policy if rules and policies are not followed. 
One ticket per vehicle, per day. Your ticket includes admission for up to (6) six individual passengers including the driver. If you have more people attending, they will need to purchase a separate vehicle admission ticket.
Payment plans are available through Paypal's "Buy Now, Pay Later" feature. No Interest if paid in full in 6 months on purchases of $99 or more. Subject to credit approval.
Payment Plan Steps:
Add desired tickets to your cart on Eventbrite

Select "Paypal" in the payment method section of the checkout form

Click the blue "Pay Later" button

Sign in to your Paypal account

Scroll to the bottom of the page and select "Pay Later"

Click "Continue to Application" and follow on-screen prompts to complete your purchase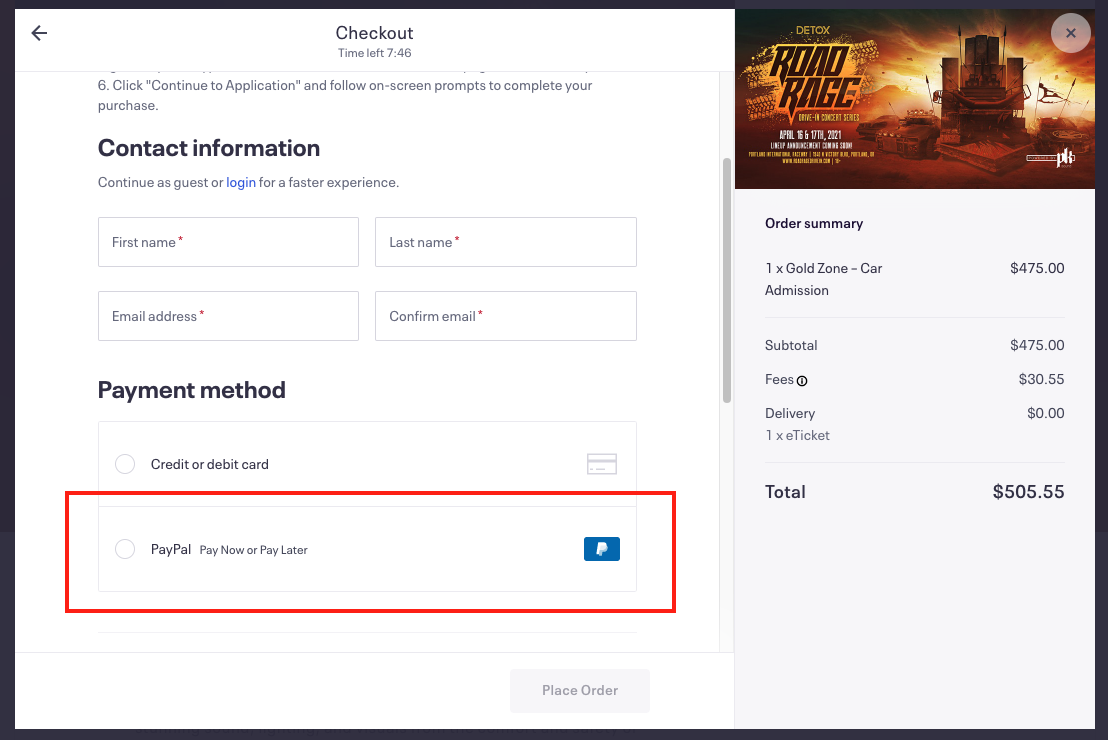 This is drive-in movie format without large dance areas. State COVID-19 guidelines prohibit guests outside of their 16′ W x 18′ D spaces. We encourage guests to stay inside the perimeter of their vehicles.
The event entrance for Road Rage will be off of N. Marine Drive. Please DO NOT use the main Portland International Raceway address on Expo Rd. Click here to get correct directions to the main event entry point.
Safety
ROAD RAGE RULES
If you're experiencing any of the symptoms below, or are in any doubt about your health, DO NOT attend this event.

Have you received a positive test result from a health care professional?
Do you have a persistent cough?
Are you experiencing any respiratory issues?
Are you experiencing any of the following symptoms: chills, repeated shaking with chills, muscle pain, headache, sore throat or new loss of taste/or smell?
In the last 14 days, have you been in close contact with someone who has received a positive test result from a health care professional?
In the last 14 days, have you been in close contact with someone who exhibited COVID-19 symptoms which are a fever and a cough or other respiratory issues?

Upon vehicle arrival, all occupants will undergo a health screening consisting of a contactless temperature check and health questionnaire.

If any guest has a temperature is 99.5°F or above, they will not meet the health screening questionnaire requirements and will not be permitted to remain on site.

You must be 18+ to enter. Valid photo ID is required.
We highly recommend you carry a personal size hand sanitizer
We ask that you arrive prior to the show starting for the safety of our guests. Gates open two hours prior to the scheduled show start time. Arriving early is recommended. You must arrive by 7pm.
All guests are required to stay within the perimeter of their 16'W x 18′ D parking space. We highly encourage all guests to remain inside their vehicles for their safety.
Congregation around the venue (e.g.: near restrooms, in front of the stage, or near the entry and exit points) is strictly prohibited
Any guests outside of their vehicle must remain 6′ from others at all times
Food and beverage sales will be available via delivery only to vehicles only.
You're required to arrive with your entire party in one vehicle. Arrival by Uber/Lyft/Max will not be permitted. No overflow parking is available.
We recommend attending the event only with members of your immediate household.
Attendees must wear masks at all times except when actively consuming food or drinks and anytime window or hatches are open and when communicating with event staff.
Car passes include six (6) passengers including the driver per vehicle.
Oversized vehicles such as large vans, buses, campers, RVs, and limousines will not be permitted entry. Highly raised or elevated cars/trucks are not allowed. If it has more than four wheels, please contact us to ensure it is allowed.
Water will be available for sale but bringing your own sealed water will limit the amount of contact you have with others on site. Free water stations will not be available on-site due to COVID-19 precautions.
Upon arrival, please ensure you have your ticket readily available on the driver-side window.
All vehicles will be thoroughly checked when entering the venue
Illegal drugs and substances are prohibited everywhere on event grounds
If you are inebriated at the door, security will not allow you to enter the venue. We reserve the right to refuse entry to anyone if we feel you may cause danger to other guests.
The speed limit is 5 mph onsite.
All drivers are required to follow traffic laws at all times.
You may only leave your space to use the restroom–masks must be worn.
Please ensure you know how to turn off your headlights.
Please take trash with you–do not leave trash on the ground.
Please be patient when exiting.
Vehicles cannot be left overnight. Vehicles left overnight will be towed at the owner's expense.
Have a question or health & safety concerns? Please TEXT our guest services number: (971) 266-1781
There is a strict no refund policy – tickets are transferrable.
Selling, promoting, or advertising any third-party companies or products will not be permitted. If the item(s) you are looking for is not on either the prohibited or approved list, it more than likely is not allowed. Text (971) 266-1781 if you have questions.
PROHIBITED ITEMS:
Fireworks

Lasers or Laser Pointers

Drones

Tents, Tarps, Camping Equipment

Firepits

Open Fire

BBQs and Grills (No Cooking Food)

Propane Heaters

Kerosene Lamps or Open Flames of Any Kind Including Lighters

Smoke Makers

Pepper Spray

Disposable E-cigs / Nicotine Vaporizer Pens / Cigarettes / Juuls 

(Updated!)

Knives, Firearms or any other weapons

Illegal Substances

Drugs or Drug Paraphernalia 

Pets

Glass

Spray Paints

Spiked Jewelry

Flyers

Professional Cameras (Detachable Lens or SLR)

Video or Audio Recording Equipment

Tripods

Balloons

Balls

Frisbees or Any Other Projectiles

Outside Alcohol – Guests with open containers in vehicles may be subject to DUI by Portland Police 

Bicycles

Scooters

Other Transportation Devices

Generators

Noisemakers

Massagers

And any other items deemed unsafe or prohibited by event security personnel
APPROVED ITEMS:
Respectful Totems (nothing derogatory or considered discriminative)

Glowing / Illuminated Costumes or Jewelry

Flow Toys/Poi/Rope Dart (Only if proper social distancing guidelines can be met)

Non-Professional Cameras

Sunglasses and Hats

Coolers and Ice

Sealed Water Bottles/Cases and Non-Alcoholic Beverages

Sealed Snacks and Outside Foods

Battery/Solar Powered Lights

Lawn Chairs

Earplugs

Sealed Chapstick

Cell Phones

Small Bags, Single Compartment Backpacks, and Purses

Prescription Medication with Doctor Approval Note

Unsure if it's allowed? Please contact us!
DISORDERLY CONDUCT OR FAILURE TO COMPLY WITH SOCIAL DISTANCING GUIDELINES WILL NOT BE TOLERATED OR PERMITTED. FAILURE TO ADHERE TO GUIDELINES MAY RESULT IN IMMEDIATE REMOVAL WITHOUT REFUND.
COVID-19 MEDICAL ACKNOWLEDGMENT AND RELEASE: I recognize that the World Health Organization has declared the 2019 novel coronavirus ("COVID-19") a worldwide pandemic. I understand that COVID-19 is extremely contagious and is believed to spread by person-to-person contact, by contact with contaminated surfaces and objects, and by air. I acknowledge the contagious nature of COVID-19 and voluntarily assume the risk of exposure to or infection by COVID-19 by participating in the concert. I understand that the risks associated with COVID-19 include but are not limited to serious and potentially life-threatening illness, long-term health effects, and even death. I have read and understood the above warning about COVID-19. Knowing these facts, I wish to participate, and in consideration of your acceptance of my entry fee knowingly assume the associated risks with in-person participation.