April 16, 2021 - April 17, 2021
Portland International Raceway
TRUTH, STYLUST, HI I'M GHOST, CRIMES, MEGALODON, LAXX, HAL-V & SpaceCase
Drive-in and get ready to rage! A brand new electronic music adventure featuring national and worldwide artists awaits. Complete with stunning sound, lighting, and visuals from the comfort and safety of your own vehicle at Portland International Raceway.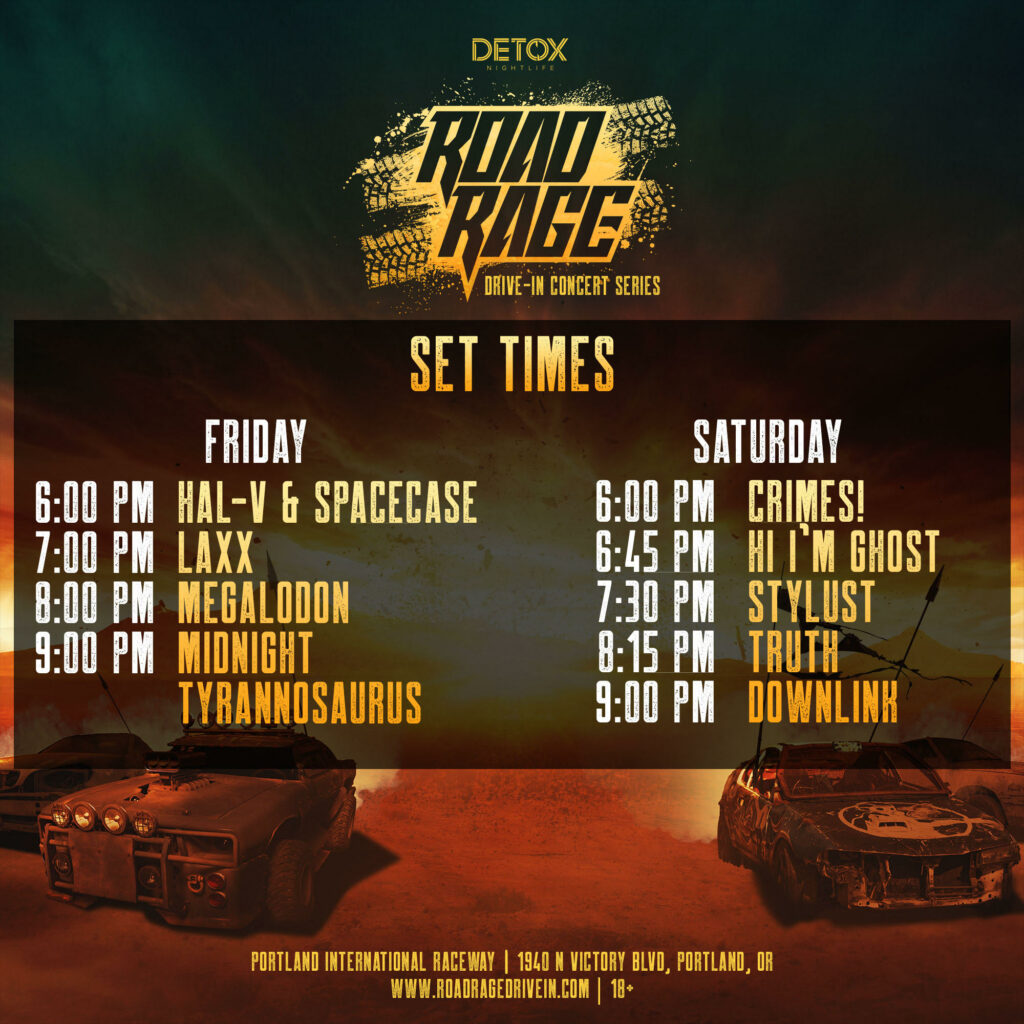 TICKETS
You must be 18+ to enter. Valid photo ID is required.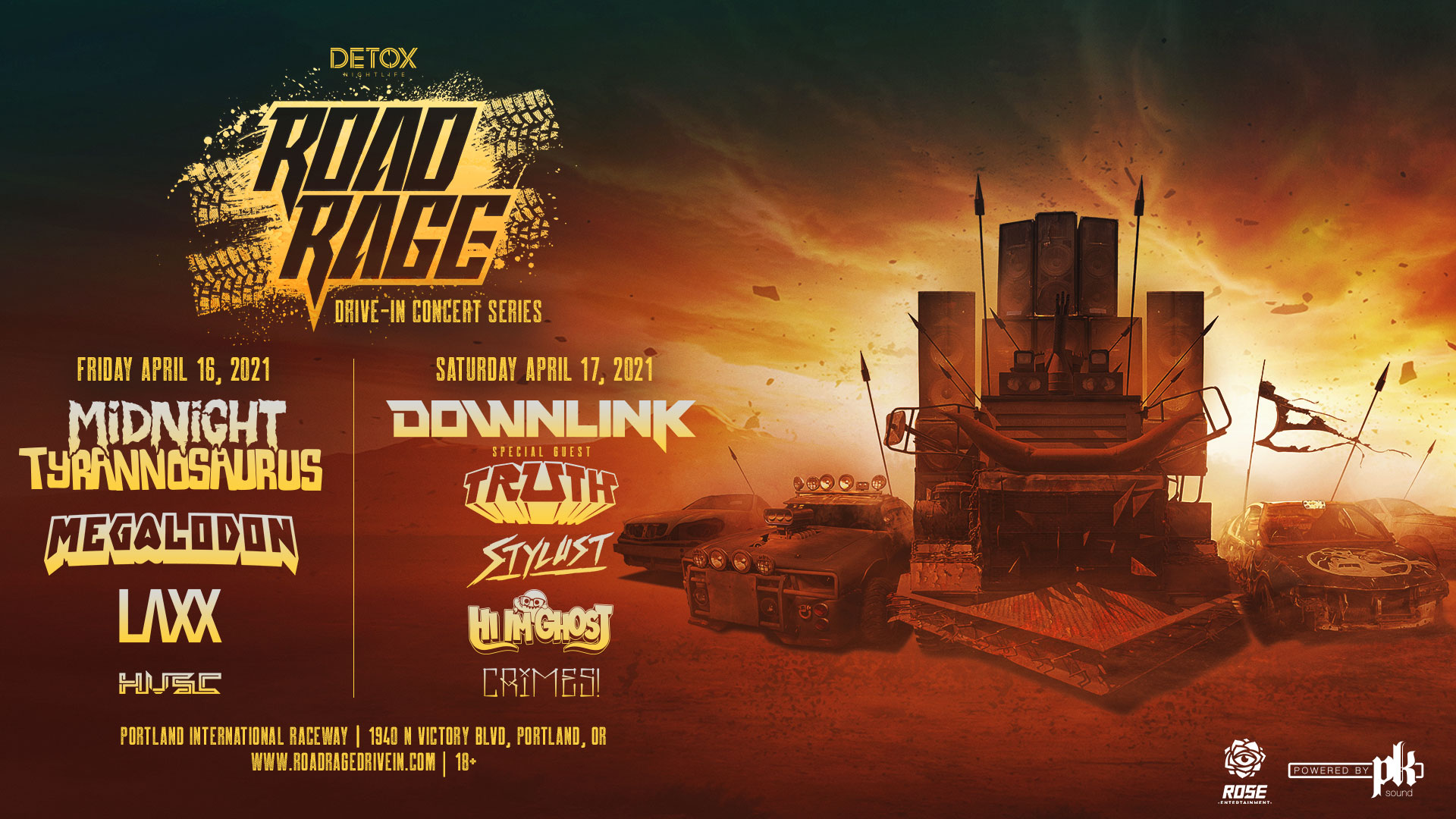 Safety
ROAD RAGE RULES
If you're experiencing any of the symptoms below, or are in any doubt about your health, DO NOT attend this event.

Have you received a positive test result from a health care professional?
Do you have a persistent cough?
Are you experiencing any respiratory issues?
Are you experiencing any of the following symptoms: chills, repeated shaking with chills, muscle pain, headache, sore throat or new loss of taste/or smell?
In the last 14 days, have you been in close contact with someone who has received a positive test result from a health care professional?
In the last 14 days, have you been in close contact with someone who exhibited COVID-19 symptoms which are a fever and a cough or other respiratory issues?

Upon vehicle arrival, all occupants will undergo a health screening consisting of a contactless temperature check and health questionnaire.

If any guest has a temperature is 99.5°F or above, they will not meet the health screening questionnaire requirements and will not be permitted to remain on site.

You must be 18+ to enter. Valid photo ID is required.
We highly recommend you carry a personal size hand sanitizer
We ask that you arrive prior to the show starting by 6:00 pm for the safety of our guests. Gates open at 4:00 pm, arriving early is recommended.
Food and beverage sales will be available via delivery only to vehicles only.
You're required to arrive with your entire party in one vehicle. Arrival by Uber/Lyft/Max will not be permitted. No overflow parking is available.
You may only attend the event with members of your immediate household.
Attendees must wear masks at all times except when actively consuming food or drinks.
Car passes include six (6) passengers including the driver per vehicle.
Oversized vehicles such as large vans, buses, campers, RVs, and limousines will not be permitted entry. Highly raised or elevated cars/trucks are not allowed. If it has more than four wheels, please contact us to ensure it is allowed.
Water will be available for sale but bringing your own will limit the amount of contact you have with others on site. Free water stations will not be available on-site due to COVID-19 precautions.
Upon arrival, please ensure you have your ticket readily available on the driver-side window.
All vehicles will be thoroughly checked
Illegal drugs and substances are prohibited everywhere on event grounds
If you are inebriated at the door, security will not allow you to enter the venue. We reserve the right to refuse entry to anyone if we feel you may cause danger to other guests.
The speed limit is 5 mph onsite.
All drivers are required to follow traffic laws at all times.
You may only leave your space to use the restroom–masks must be worn.
Please ensure you know how to turn off your headlights.
Please take trash with you–do not leave trash on the ground.
Please be patient when exiting.
Vehicles cannot be left overnight. Vehicles left overnight will be towed at the owner's expense.
Have a question or health & safety concerns? Please TEXT our guest services number: (971) 266-1781
Selling, promoting, or advertising any third-party companies or products will not be permitted. If the item(s) you are looking for is not on either the prohibited or approved list, it more than likely is not allowed. Call (971)266-1781 if you have questions.
PROHIBITED ITEMS:
Fireworks
Lasers or Laser Pointers
Drones
Tents, Tarps, Camping Equipment
Flags
Firepits
Open Fire
BBQs and Grills (No Cooking Food)
Propane Heaters
Kerosene Lamps or Open Flames of Any Kind Including Lighters
Smoke Makers
Pepper Spray
Knives, Firearms or any other weapons
Illegal Substances
Drugs or Drug Paraphernalia
Pets
Glass
Markers
Pens
Spray Paints
Spiked Jewelry
Flyers
Professional Cameras (Detachable Lens or SLR)
Video or Audio Recording Equipment
Tripods
Balloons
Balls
Frisbees or Any Other Projectiles
Outside Alcohol
Bicycles
Scooters
Other Transportation Devices
Inflatables
Generators
Noisemakers
Massagers
Wagons and/or Strollers
APPROVED ITEMS:
Glowing / Illuminated Costumes or Jewelry
Non-Professional Cameras
Sunglasses and Hats
Disposable E-cigs / Nicotine Vaporizer Pens (but none with refill-able chambers containing visible liquid)
Coolers and Ice
Sealed Water Bottles/Cases and Non-Alcoholic Beverages
Sealed Snacks and Outside Foods
Battery/Solar Powered Lights
Lawn Chairs
Earplugs
Sealed Chapstick
Cell Phones
Small Bags, Single Compartment Backpacks, and Purses
Prescription Medication with Doctor Approval Note
DISORDERLY CONDUCT OR FAILURE TO COMPLY WITH SOCIAL DISTANCING GUIDELINES WILL NOT BE TOLERATED OR PERMITTED. FAILURE TO ADHERE TO GUIDELINES MAY RESULT IN IMMEDIATE REMOVAL WITHOUT REFUND.
COVID-19 MEDICAL ACKNOWLEDGMENT AND RELEASE.
By purchasing tickets for Road Rage Drive-In, I acknowledge the health risks associated with attending Road Rage Drive-In, including but not limited to transient dizziness, lightheaded, fainting, nausea, muscle cramping, musculoskeletal injury, joint pains, sprains and strains, heart attack, stroke, or sudden death.  I agree that if I experience any of these or any other symptoms during Road Rage Drive-In, I will discontinue my participation immediately and seek appropriate medical attention.  I DO HEREBY RELEASE AND FOREVER DISCHARGE THE RELEASED PARTIES FROM ANY CLAIM WHATSOEVER WHICH ARISES OR MAY HEREAFTER ARISE ON ACCOUNT OF ANY FIRST AID, TREATMENT, OR SERVICE RENDERED IN CONNECTION WITH MY PARTICIPATION IN ROAD RAGE DRIVE-IN.
As a participant, volunteer, or attendee, You recognize that your participation, involvement and/or attendance at any Road Rage Drive-In event is voluntary and may result in personal injury (including death) and/or property damage. By attending, observing or participating in Road Rage Drive-In, You acknowledge and assume all risks and dangers associated with your participation and/or attendance, and You agree that: (a) Treadway Events & Entertainment LLC, Detox Nightlife (b) the property or site owner of Road Rage Drive-In, and (c) all past, present and future affiliates, successors, assigns, employees, volunteers, vendors, partners, directors, and officers, of such entities (subsections (a) through (c), collectively, the "Released Parties"), will not be responsible for any personal injury (including death), property damage, or other loss suffered as a result of your participation in, attendance at, and/or observation of the Road Rage Drive-In, regardless if any such injuries or losses are caused by the negligence of any of the Released Parties (collectively, the "Released Claims").  BY ATTENDING AND/OR PARTICIPATING IN ROAD RAGE DRIVE-IN, YOU ARE DEEMED TO HAVE GIVEN A FULL RELEASE OF LIABILITY TO THE RELEASED PARTIES TO THE FULLEST EXTENT PERMITTED BY LAW.
Event Map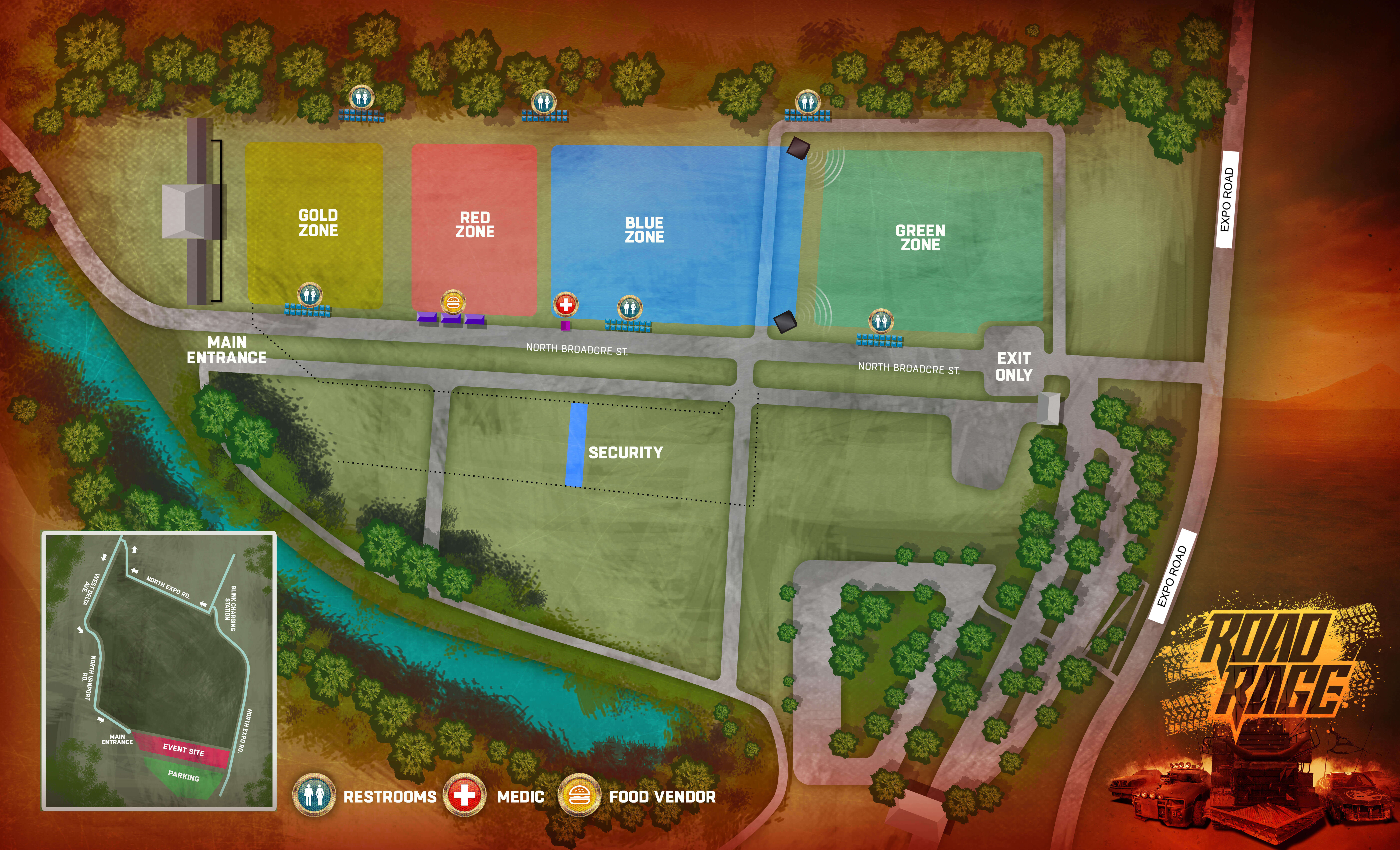 Food & Concessions
Ordering is Available Via Walk-Up – You Must Wear Masks and Practice Social Distancing!